We are so excited to celebrate all of our students and their accomplishments this Saturday, June 3, 2023! Please read through and share the following information with all of your guests that will be attending as it pertains to our commencement ceremony guidelines. Graduation Ceremony Times: Doors will open 1 hour ahead of start time below for general public Graduation Ceremony Times: Doors will open 1 hour ahead of start time below for general public Graduates need to arrive at least 45 minutes ahead of start time below: Friday, June 2, 2023 Lawrence Adult Education - 6:00 p.m. Saturday, June 3, 2023 Lanphier - 11:00 A.M. Southeast - 2:00 P.M. Springfield - 5:00 P.M. All Graduations will stream live on District 186's Youtube Channel :
https://youtube.com/@SPS_Distr
...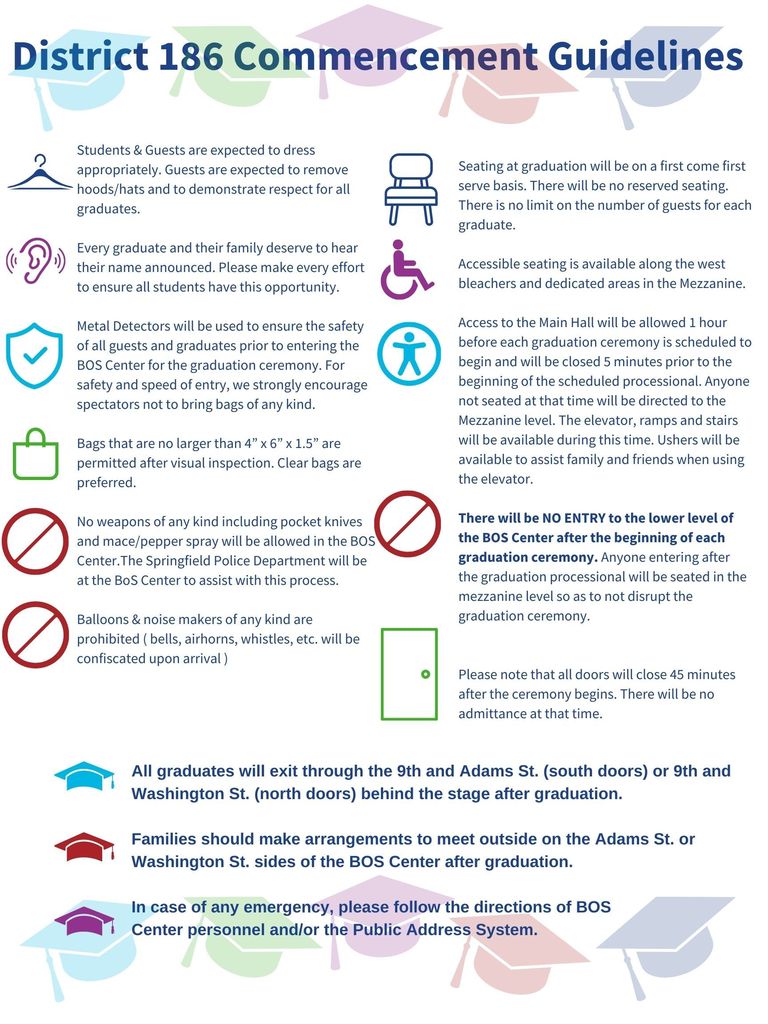 Grades 9-11: Just a reminder Final Exams begin tomorrow 5/31. Make sure you study and get plenty of sleep. Finish the year strong!

Class of 2023.....Please check your email regularly. We will be communicating important graduation.

Seniors Honor Night will be held Thursday, May 18th at 6 pm in Southeast Auditorium.

Scholarship Opportunity : Central 3 Community First Project, INC Scholarship. All applicants must be African American high school seniors in Springfield & surrounding area who are pursuing enrollment to an undergraduate program at an accredited college or university for Fall 23. Fill out Application :
https://5il.co/1tkh2
Application due May 24, 2023

Tina Jannazzo won a Project Reach grant from the Illinois Association of College Admission Counseling (IACAC) that provides money & other resources to support college & post secondary advising for SSHS. She accepted the award today at the annual conference! Congrats!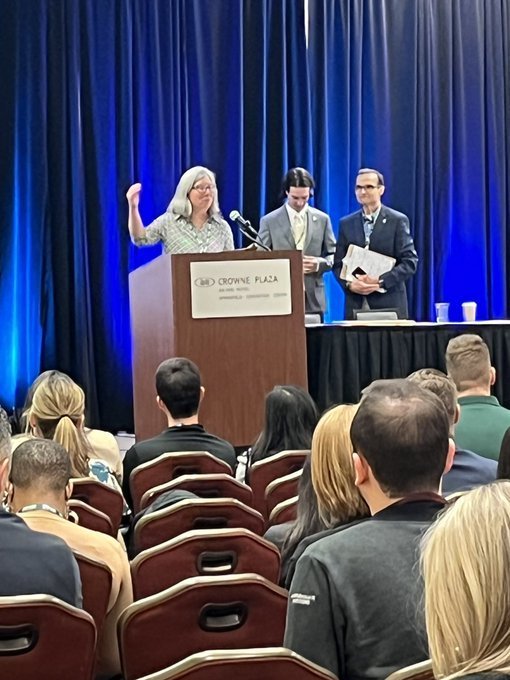 Sports updates for 4-5-23 Soccer cancelled, baseball cancelled, softball has been moved to Rochester.

Poms Tryout Info.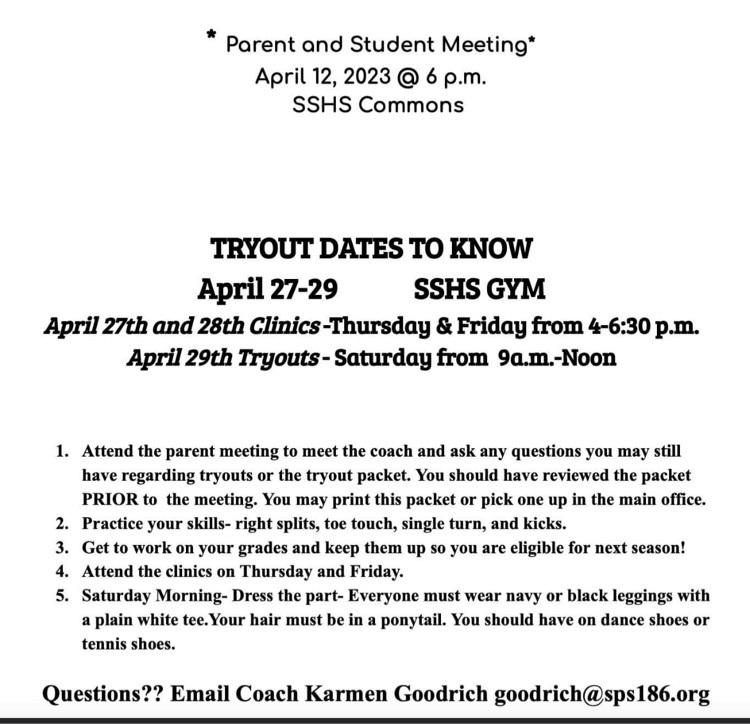 USA! USA! Springfield Southeast High School students were a little more patriotic today than usual to earn extra credit points in their A.P. Government class! Mr. Volpert gave kids an opportunity to earn 2 points of extra credit if they wore red, white or blue and 5 points if they out-dressed him!! The outfits were amazing!! 👏🏿👏🏻👏🏾👏🏽 Good luck to the seniors taking the U.S. constitution test today! 🇺🇸🇺🇸🇺🇸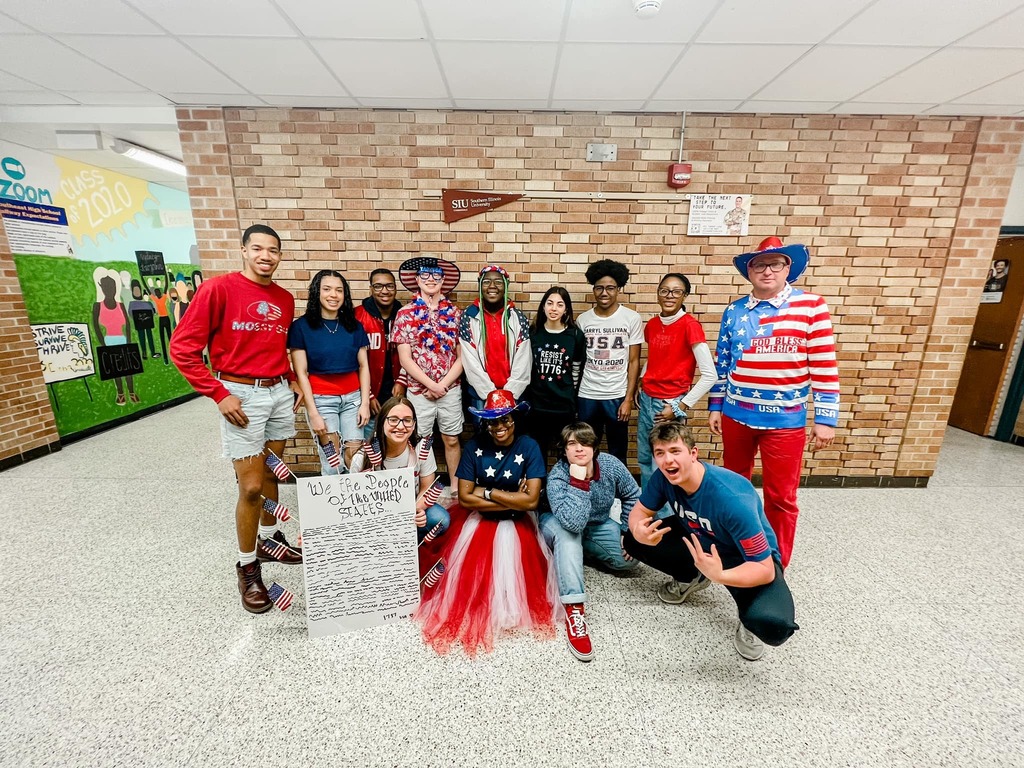 Scholarship Opportunity: Postsecondary Education Scholarship Illinois Council for Exceptional Children . The applicant must be an Illinois resident with verification of disability who plans to enter an Illinois college, university, trade or technical school. Deadline is March 10th - rb.gy/awdwig

Scholarship Opportunity: School-to-Work Scholarship presented by the Illinois Council for Exceptional Children. Applicant must be high school Illinois Resident with a disability who plans to transition into a career setting. Deadline is March 10th.
http://rb.gy/y4e0u0

You don't want to miss this! Springfield and Central Illinois African American History Museum collected our student's artwork and then had the pieces professionally framed and hung to create an exhibit at the museum. All of the pieces of art were either created by an African American artist or they depict the African American experience. We appreciate the AAHM & their commitment to showcasing our students' work in celebrating Black History. You can visit the gallery February 18th - March 31st, Tuesday - Saturday 12:00 pm - 4:00 p.m.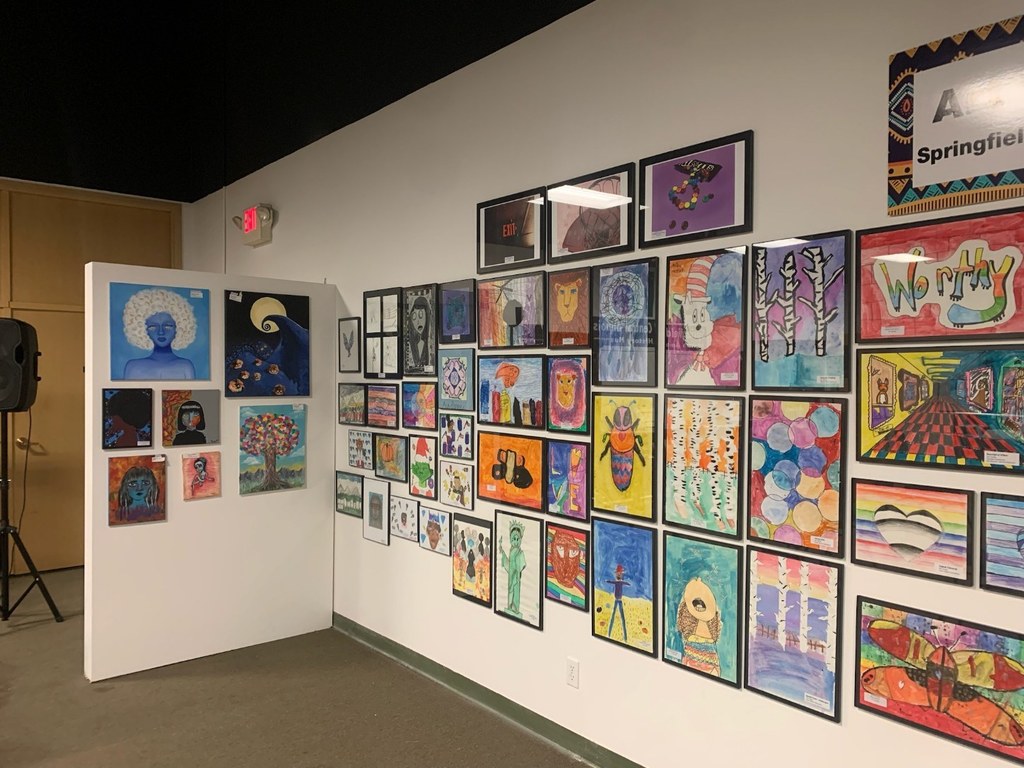 Girls Basketball game scheduled for 2/10/23 vs. Miller Academy has been cancelled.

2023 Black History Bowl : Hosted by Springfield and Central Illinois African American History Museum Preliminary : February 1, 2023 10:00 am - 12:00 pm Championship : February 26th 2:00 pm - 4:00 pm The Springfield and Central Illinois African American History Museum hosted its first Black History Bowl in 2019. The Bowl was created to address the lack of history taught in schools and to increase the general knowledge of significant contributions made by African Americans throughout history. Watch it live -
https://www.youtube.com/@SPSchannel22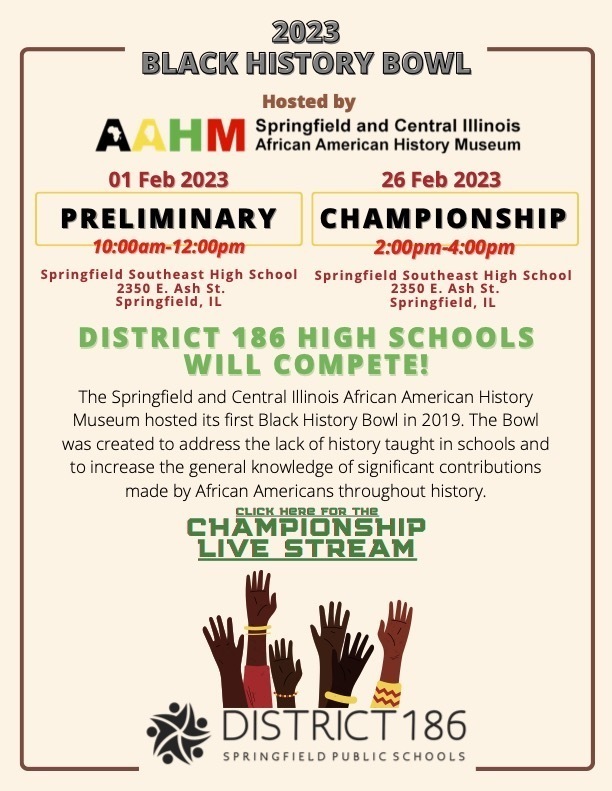 CITY 2023 ❤️💛🧡💙 Night two featured two boys' games and some great games on the court from all 4 teams! The crowds were loud and the vibes were good!! Southeast Poms & The Scarlet line both delivered entertaining and vibrant routines! The cheerleaders were loud and executed the all-city cheer perfectly! We are excited that there are 2 more days of great basketball to go!!! CITY 2023 Scores : Lanphier 52 Southeast 43 Sacred Heart Griffin 60 Springfield 38 See you for night 3! ❤️💛🧡💙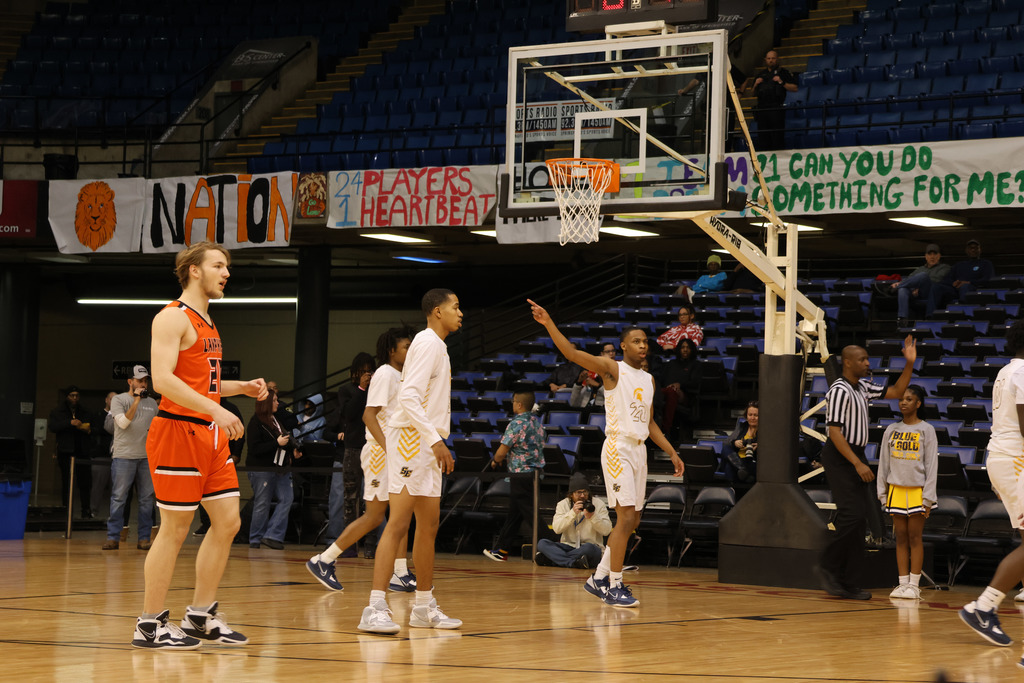 Are you ready for night 2? Put on your school colors and come down to the BOS Center. Tickets cost $6 at the door. Thursday, Jan. 26 (2 Boys Games) 6:00 PM: Southeast (H) vs.Lanphier (A) 8:00 PM: Sacred Heart Griffin (H) vs. Springfield (A) Poms Performances : *Regular Performances* 💙💛SSHS Game 1 ❤️🖤SHS Game 2 Band : 🎤 SHG CHOIR + Mix Tape Night Just a reminder that all students that are not currently in high school need to be chaperoned by an adult to attend City Tournament!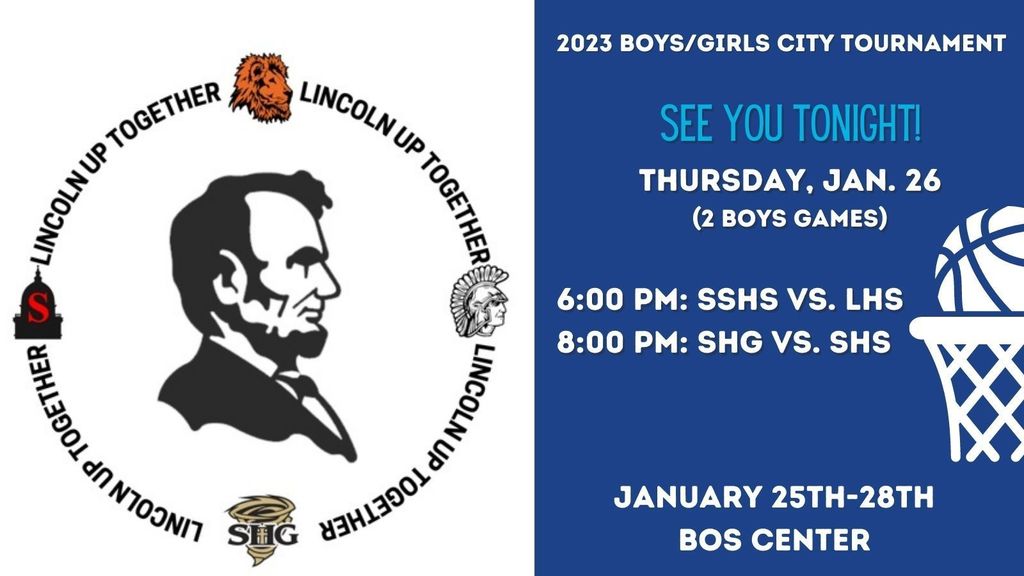 CITY 2023 ❤️💛🧡💙 City Tournament kicks off tonight at BOS Center! Tickets are $6 at the door. Wednesday, Jan. 25 (2 Girls Games) 6:00 PM: Sacred Heart Griffin (H) vs. Springfield (A) 8:00 PM: Lanphier (H) vs. Southeast (A) Poms Performances : *Regular Performances* 🌪SHG Game 1 🦁LHS Game 2 Band : Springfield High School Band 🎼🎺🎷🥁 Just a reminder that all students that are not currently in high school need to be chaperoned by an adult to attend City Tournament! #city2023 #ignite186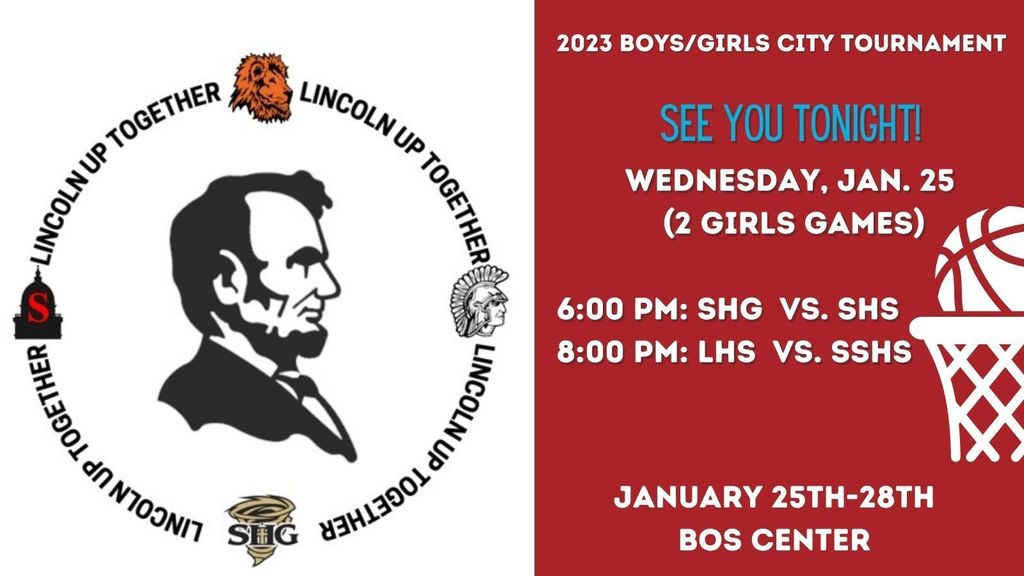 Opportunity for high school students, graduating in 2023,2024 or 2025. Sister Cities Association of Springfield (SCAS) is offering a unique opportunity to high school students to experience the culture of Japan. Learn more with these upcoming Zoom information Sessions : February 9th at 7 pm February 15th at 7 pm See the attached flier for more information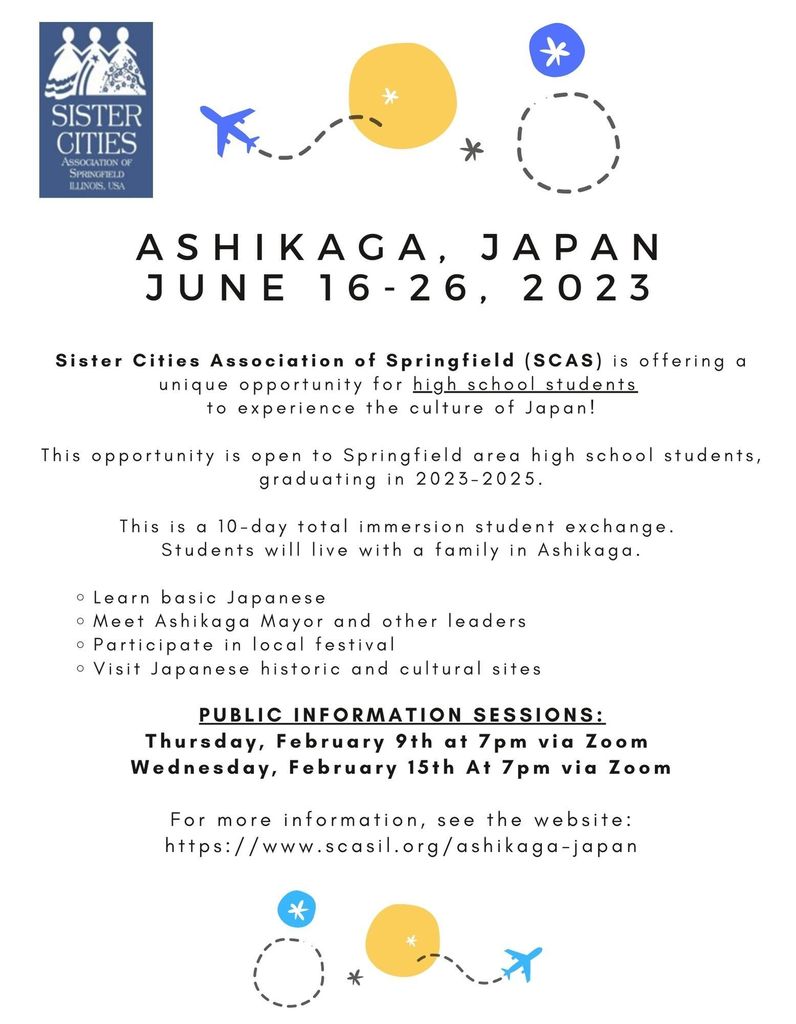 The Community Foundation for the Land of Lincoln has announced their 2023 scholarship program that offers 40 different post-secondary scholarships!! Last year, more than $205,000 was awarded in scholarships and scholarship renewals, and the Community Foundation scholarship program has awarded a cumulative amount that tops $1.8 million!!! Click here to see the list of scholarships available-
https://cfll.org/Grants-Scholarships/Scholarships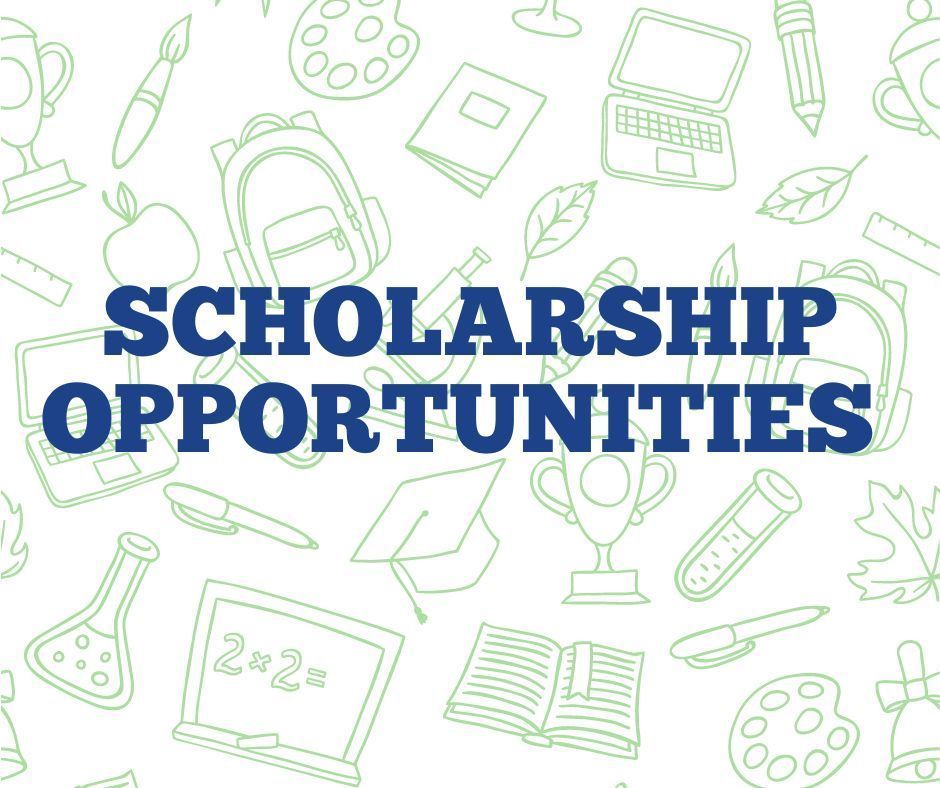 City Tournament Information