FAMILY AND COMMUNITY ENGAGEMENT (F.A.C.E.)

District Mission and Family & Community Engagement (FACE)
Our District 186 Mission
The District, in collaboration with families and community, shall develop in all students the knowledge, understanding, skills, and attitudes to empower them to be responsible life-long learners and citizens in an ever-changing world. This will be accomplished in a climate that promotes high expectations, strives to meet individual needs, and values diversity.
District 186 Vision: Empowering Students, Families and Communities to Pursue Excellence
F.A.C.E. Definition: Springfield Public School District defines Family and Community Engagement as school, family & community partnerships built on trust and meaningful communication that creates strong academic support systems for all students.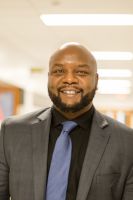 Terrance Jordan
Terrance Jordan
Director of School Leadership and F.A.C.E.
tejordan@sps186.org
217-525-3027
1900 W. Monroe
Family Engagement Principles
The information found in this section provides examples within District 186 that align with the Illinois State Board of Education Family Engagement Principles.
Family and Community Engagement Resources