Have you filled out the parent survey? The info from the survey will be used to improve accuracy in reporting parent survey response rates for your child(ren)'s school! Schools must reach at least a 20 % response rate! Fill it out here:
https://survey.5-essentials.org/Illinois/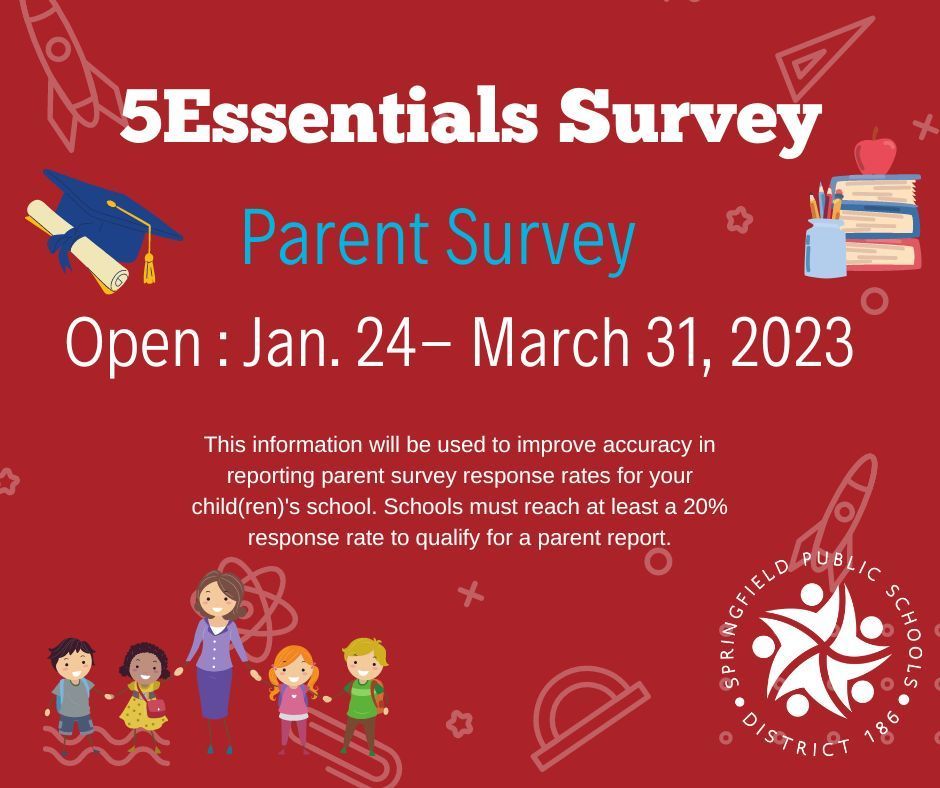 USA! USA! Springfield Southeast High School students were a little more patriotic today than usual to earn extra credit points in their A.P. Government class! Mr. Volpert gave kids an opportunity to earn 2 points of extra credit if they wore red, white or blue and 5 points if they out-dressed him!! The outfits were amazing!! 👏🏿👏🏻👏🏾👏🏽 Good luck to the seniors taking the U.S. constitution test today! 🇺🇸🇺🇸🇺🇸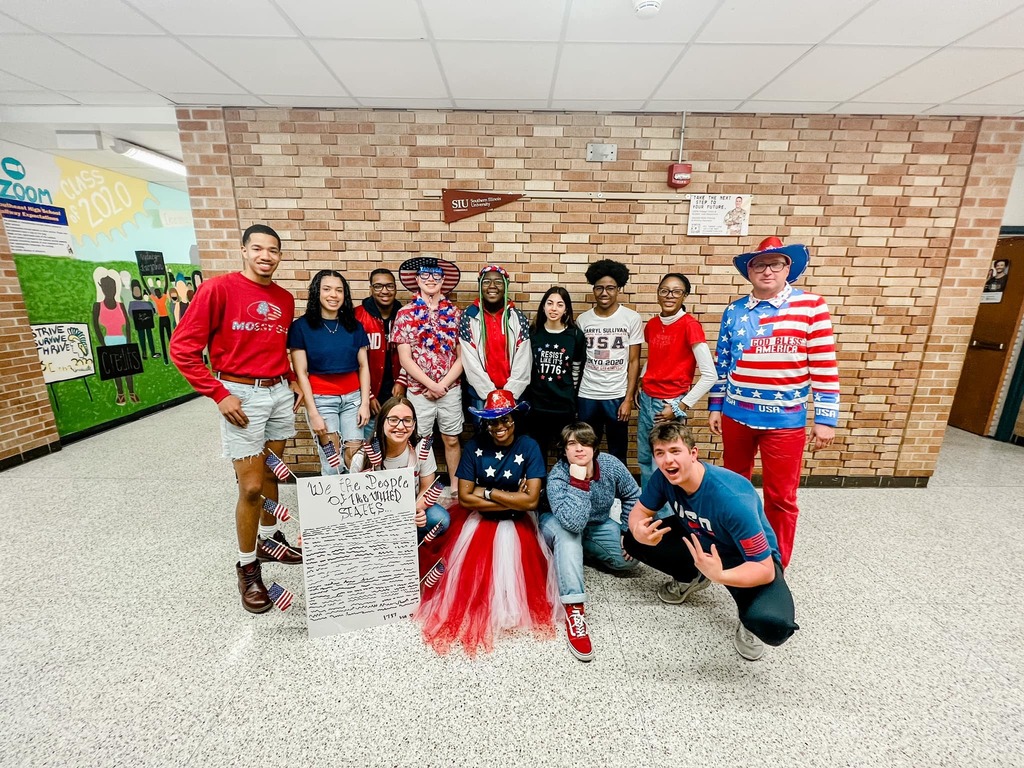 If you're watching the first four games tonight of March Madness - you might notice District 186 Alumni, Claire Thannen in the Southeast Missouri State University pep band! She'll be playing her piccolo standing next to a sousaphone. Tonight's matchup on the other sideline features District 186 Alumni ,Terrion Murdix's team. He unfortunately suffered an injury last week , but the Southland defensive player of the year is in Dayton, Ohio cheering on Texas A & M- Corpus Christi. Best of luck to all of our District 186 Alumni with ties to the tournament!! #ignite186 #MarchMadness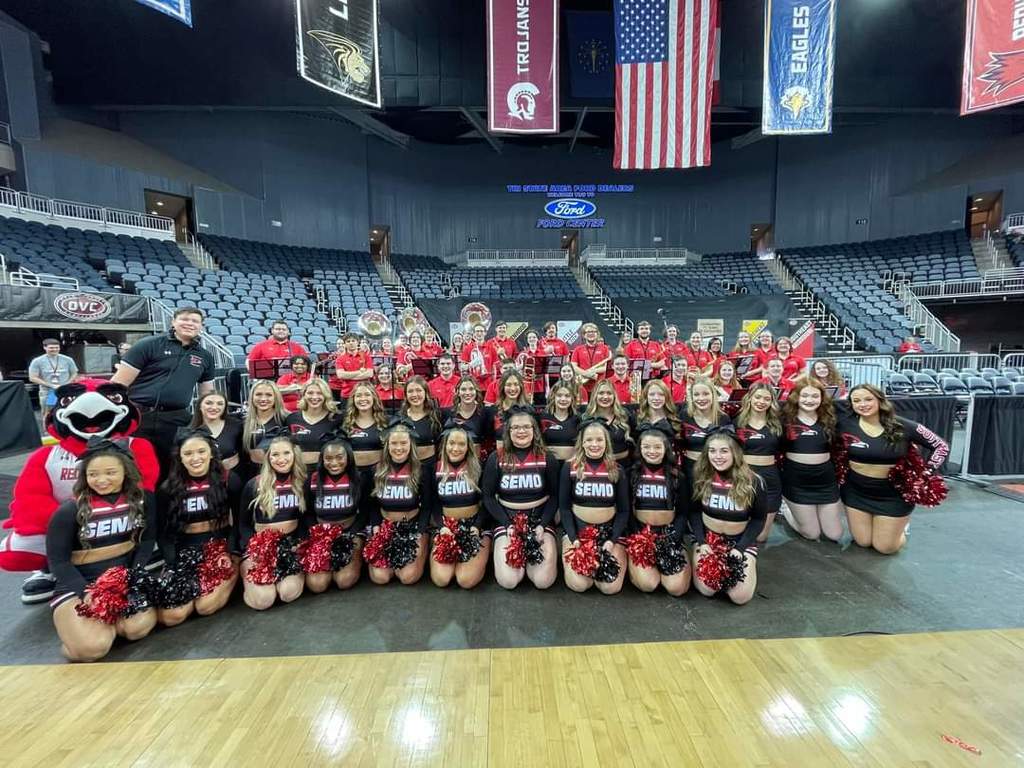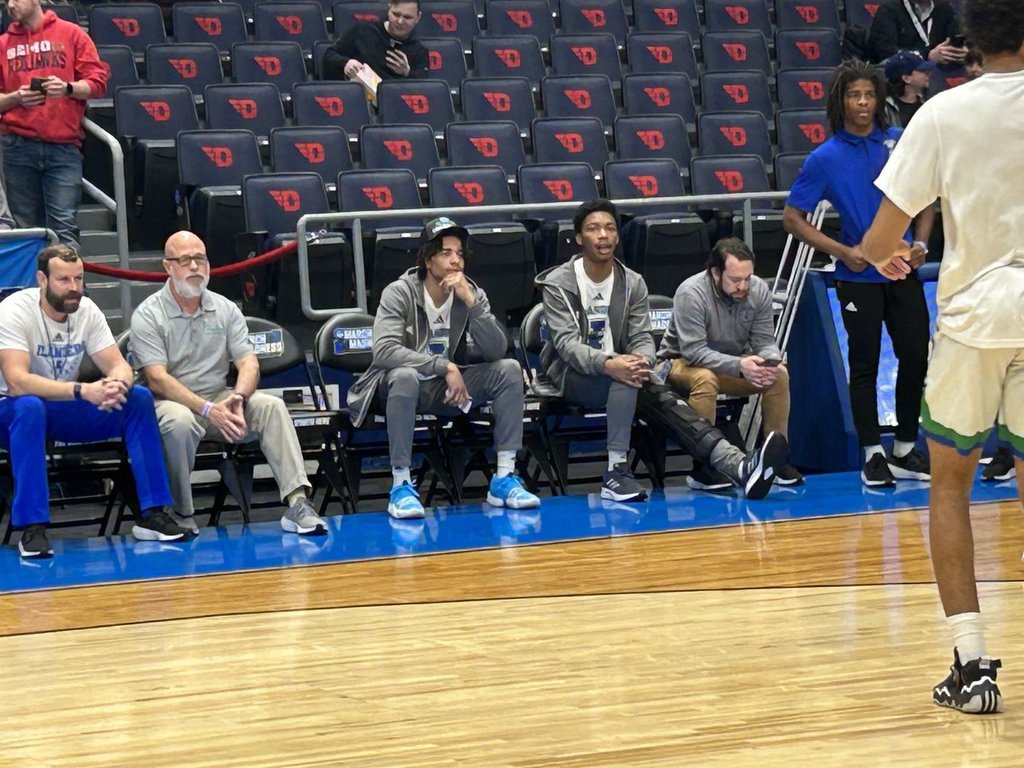 Scholarship Opportunity: Postsecondary Education Scholarship Illinois Council for Exceptional Children . The applicant must be an Illinois resident with verification of disability who plans to enter an Illinois college, university, trade or technical school. Deadline is March 10th - rb.gy/awdwig

Scholarship Opportunity: School-to-Work Scholarship presented by the Illinois Council for Exceptional Children. Applicant must be high school Illinois Resident with a disability who plans to transition into a career setting. Deadline is March 10th.
http://rb.gy/y4e0u0

As the colder temperatures keep Ridgely Elementary students inside during recess, they are exploring new ways of fun! During indoor recess, P.E., brain breaks and hands-on learning experiences, many of our students are utilizing our Lü interactive System. Lü transforms any space into an active and immersive educational environment where kids are engaged physically, intellectually and socially-emotionally. This system is a unique interactive way for students to utilize for activities that are geared towards their grade level, academic area, and even mindfulness exercises.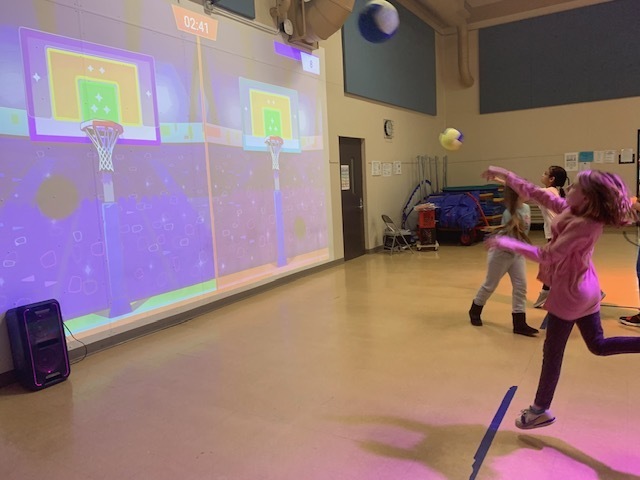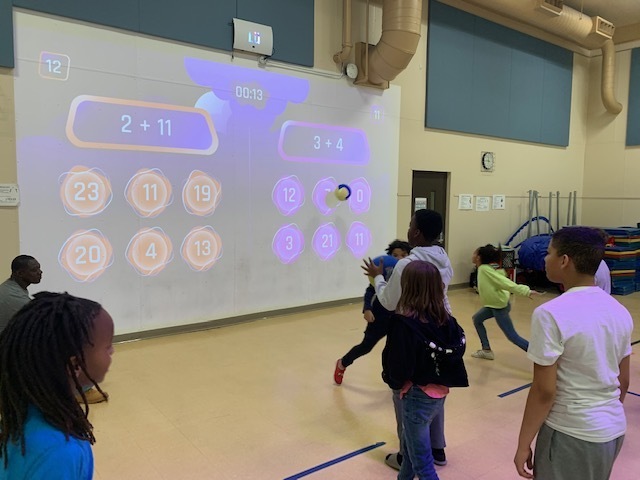 Tomorrow is the 2023 Black History Bowl : Hosted by Springfield and Central Illinois African American History Museum Championship ! We hope to see you there at Southeast High School from 2:00 pm - 4:00 pm . The Springfield and Central Illinois African American History Museum hosted its first Black History Bowl in 2019. The Bowl was created to address the lack of history taught in schools and to increase the general knowledge of significant contributions made by African Americans throughout history. Watch it live -
https://www.youtube.com/@SPSchannel22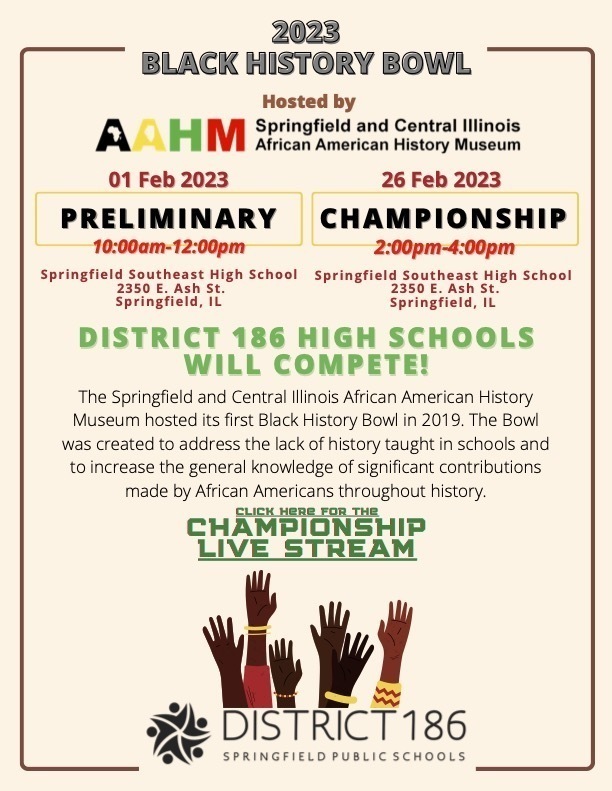 We need your help! District 186 is in need of crossing guards at a few of our elementary schools to help make sure our students can get to and from school safely. These positions are great for someone who enjoys children and would like to help out at a school for only two hours per day. Our crossing guards are an important part of District 186. You are the first smile our students see in the morning and the last smile they see before they get home. If you have an interest in this position or know someone that might, please visit the HR page to view current openings and complete an application online or at the Administrative Center located at 1900 West Monroe. If there are any questions, please contact Human Resources at 217-525-3000.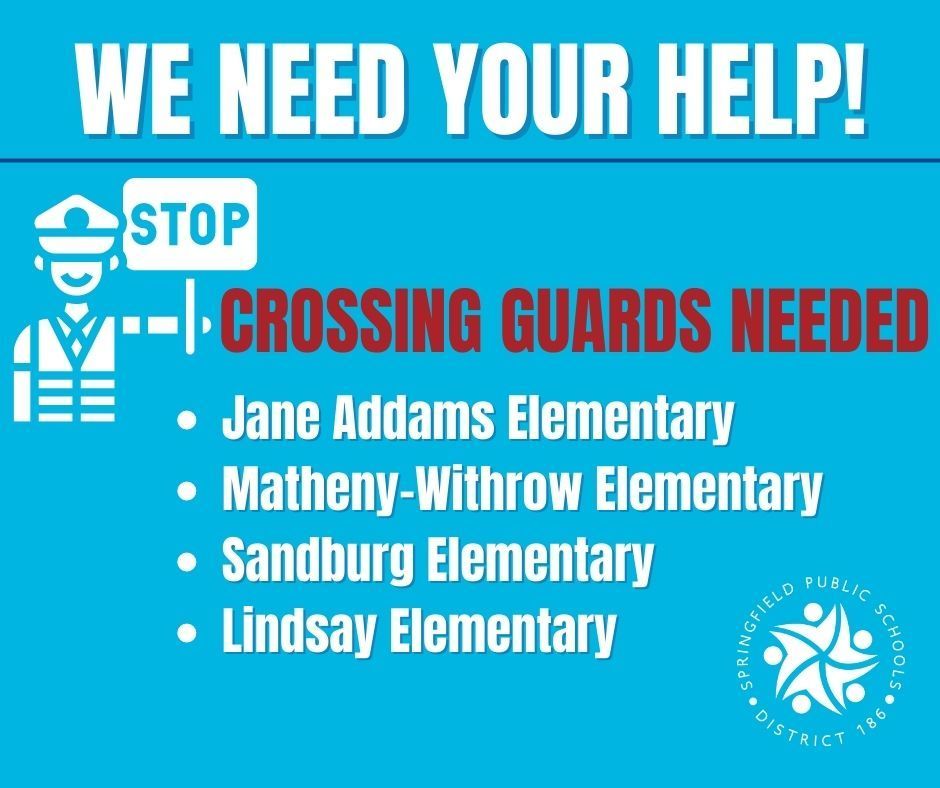 Bright futures ahead for the frogs!🐸 The 4th grade students at Owen Marsh Elementary hosted a career fair to show off their many interesting careers that they had chosen to research and explore. Each student designed & created a trifold poster board that highlighted their career choice as well as a flipping book on their iPads that showcased their research. Parents, teachers and other students were invited to tour the career fair and ask the 4th graders questions about their job, what schooling or education they would need and why they chose the job. 👮‍♀️👩‍🍳👩🏿‍🚒🧑🏾‍🎓👩‍🎓👩🏼‍🎓🧑‍🎓👩‍🏫🧑‍💻🧑🏾‍💻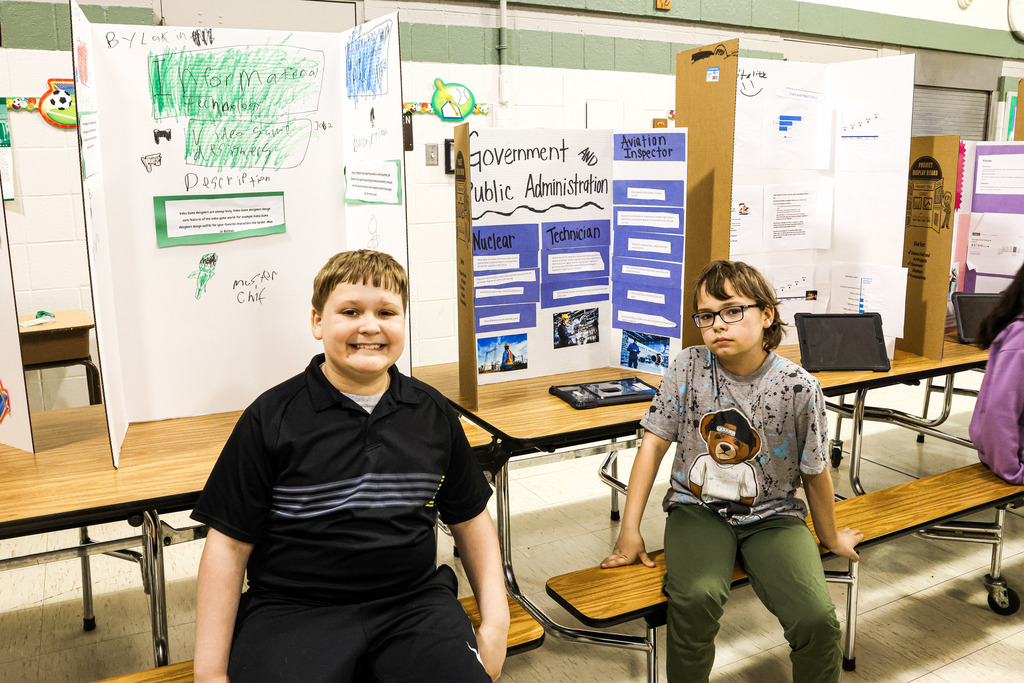 You don't want to miss this! Springfield and Central Illinois African American History Museum collected our student's artwork and then had the pieces professionally framed and hung to create an exhibit at the museum. All of the pieces of art were either created by an African American artist or they depict the African American experience. We appreciate the AAHM & their commitment to showcasing our students' work in celebrating Black History. You can visit the gallery February 18th - March 31st, Tuesday - Saturday 12:00 pm - 4:00 p.m.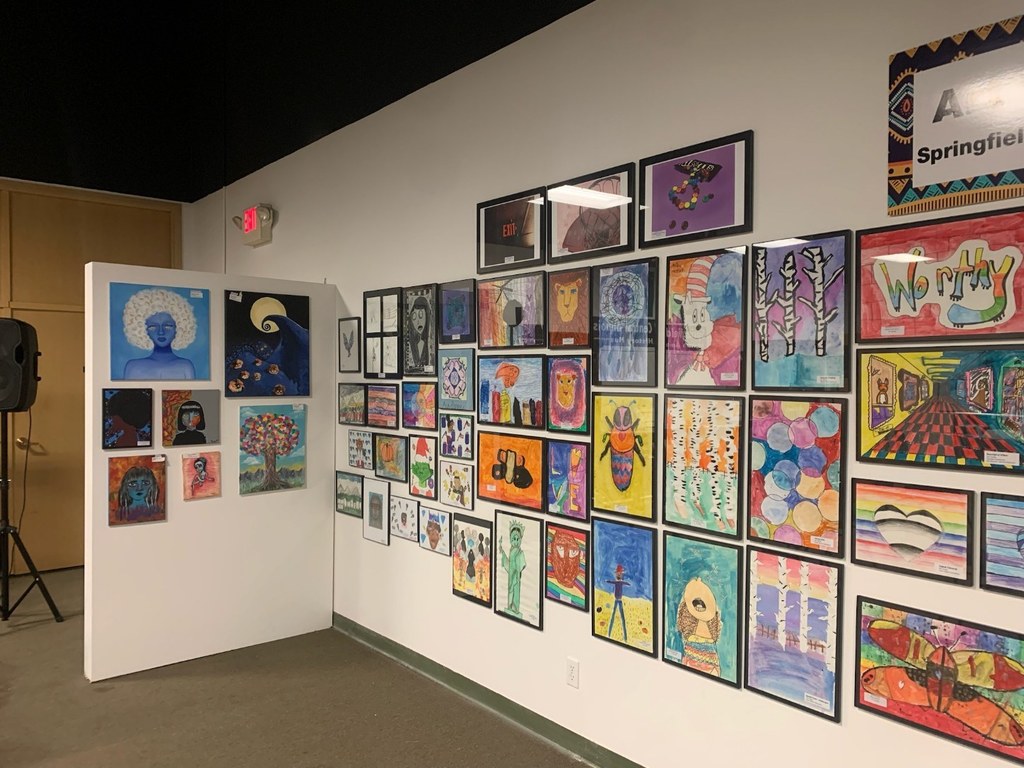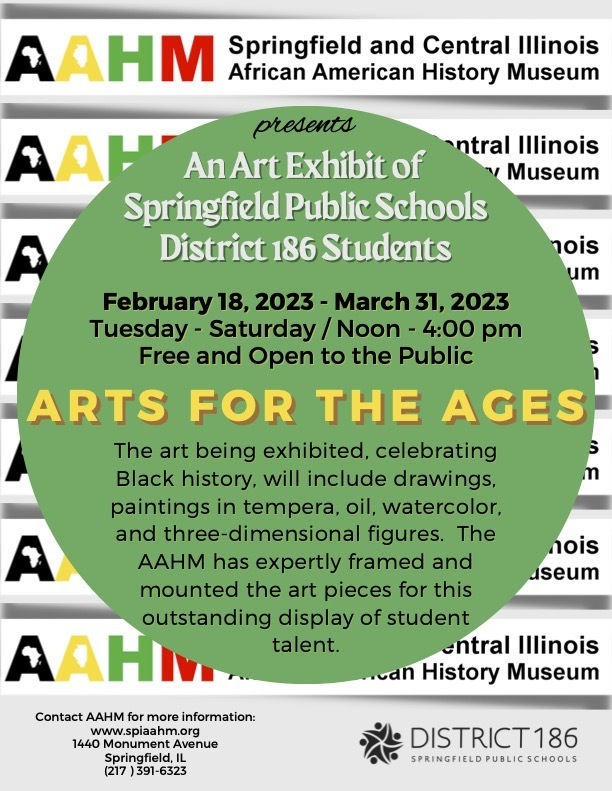 Registration is now open for the 15th Annual Empower All Abilities Virtual Conference on Saturday, February 25, 2023 from 9 - 1:30. We hope you will consider joining us for this exemplary event. Feel free to join us for all sessions or even part of the conference, whatever fits your needs. Session Topics: special education, diversity equity and inclusion, transition to adulthood, mental health, advocacy, community resources, and much more Speakers: include physicians, psychologists, social workers, professors, educators, advocates, state and community agencies, and other specialized professionals • Practical information for families, educators, and students • Professional Development Hours (PDH) available • Sesiòn de español: La Nueva Alternativa a la Tutela: Toma de Decisiones Con Apoyo If you have any questions, Ethan Posey, FACE Liaison-Special Education, at (217) 525-3060 or via email
eposey@sps186.org
Register today-
http://shorturl.at/cES18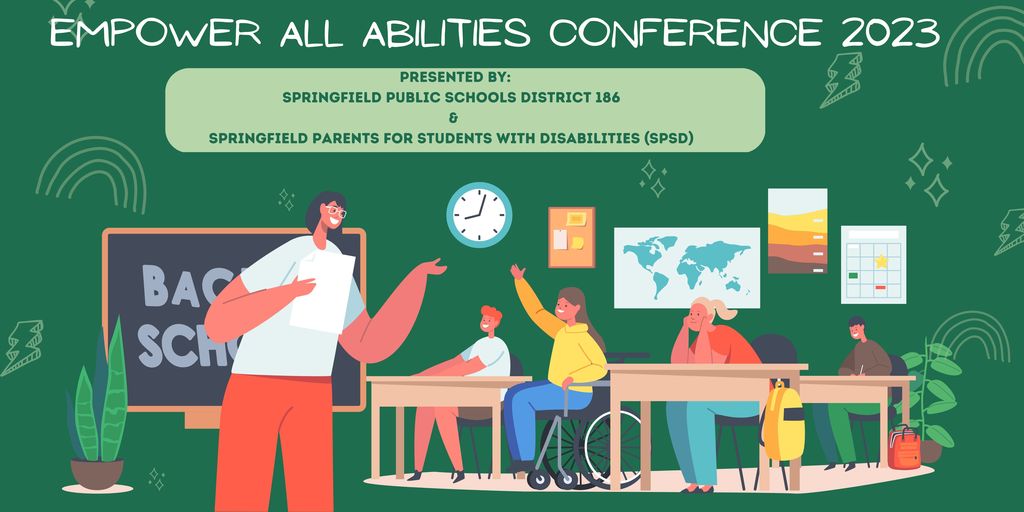 2023 Black History Bowl : Hosted by Springfield and Central Illinois African American History Museum Championship : February 26th- 2:00 pm - 4:00 pm The Springfield and Central Illinois African American History Museum hosted its first Black History Bowl in 2019. The Bowl was created to address the lack of history taught in schools and to increase the general knowledge of significant contributions made by African Americans throughout history. Watch it live -
https://www.youtube.com/@SPSchannel22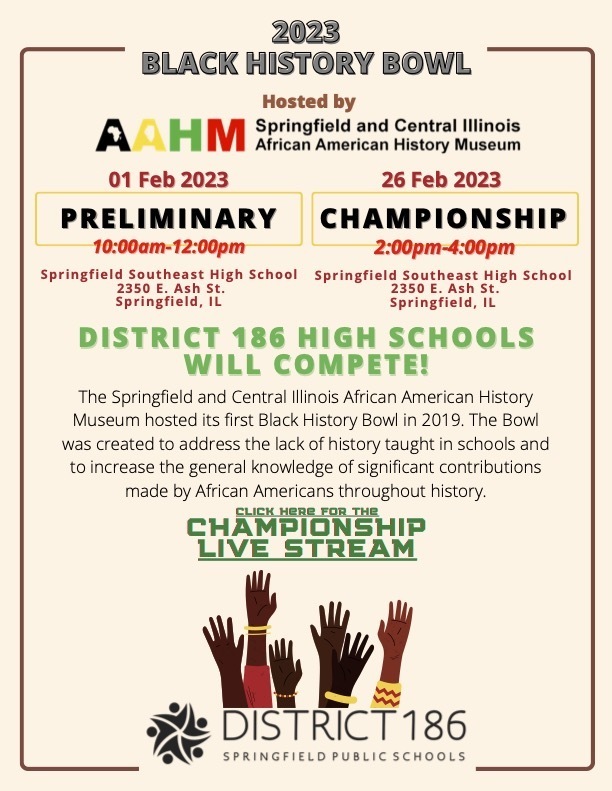 Congratulations Ella!! Ella is the first IHSA girls wrestling state qualifier for Lanphier High School & the city of Springfield. We are so proud of Ella's accomplishments on the mat and in the classroom! She is a straight A student, and her drive and ambition have helped her to achieve outstanding results! She will compete at state on February 24th & 25th in Bloomington. Good Luck!!! 🦁🦁🤼‍♀️ #ignite186 #LanphierUnited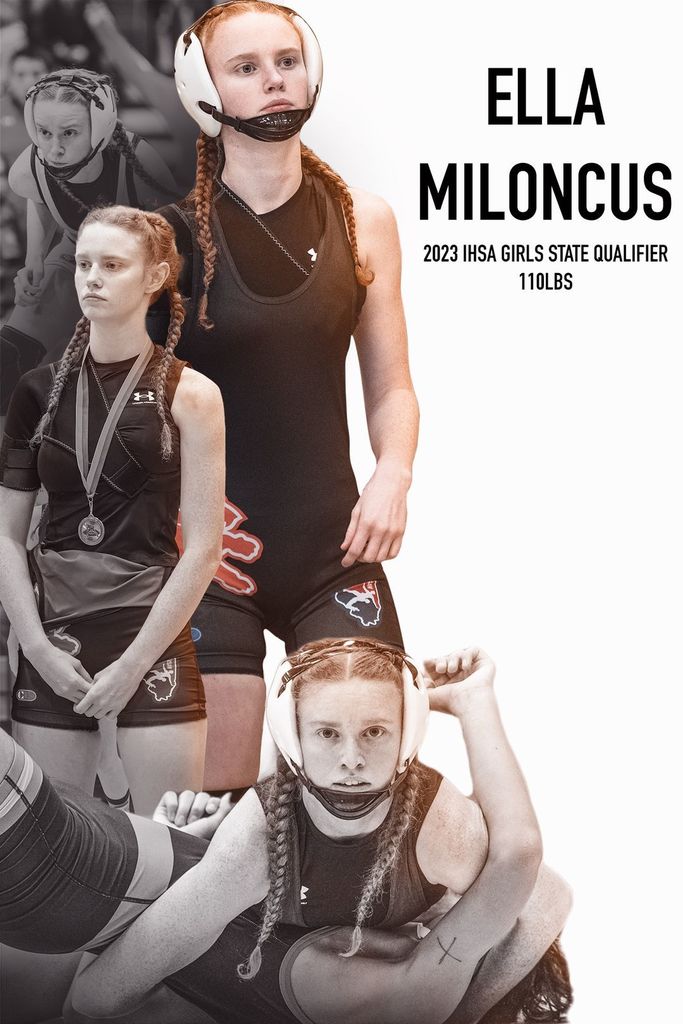 Ridgely Elementary loves to read!! 📙📖📚📗 Ms. Rahman's 3rd graders spend time each week in the school library checking out new books. We are so proud of our student's interest in reading. "We are so thankful for Mrs. Kozar, who recently retired from teaching to volunteer in our library each week," said Principal Jennifer Butcher. #ignite186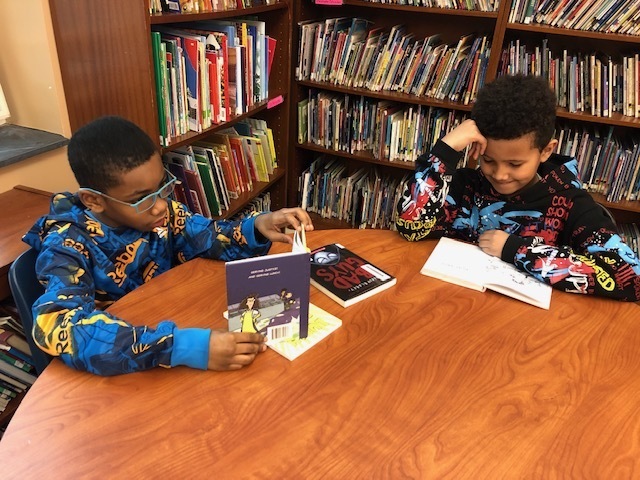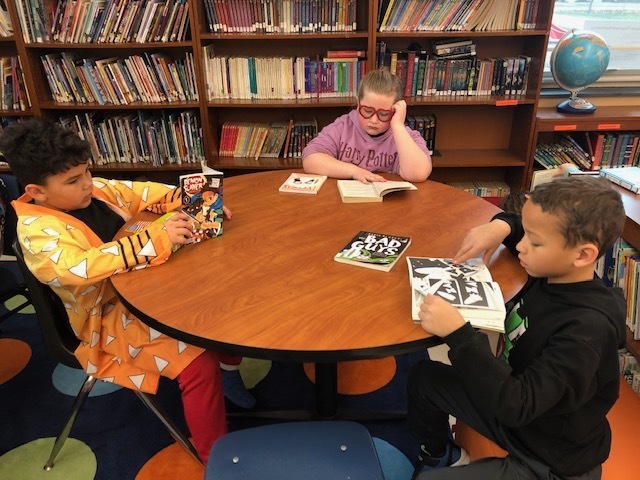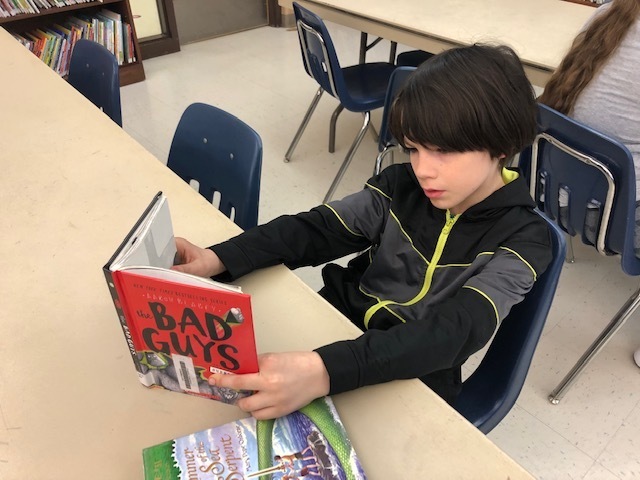 We need your support! Help us by nominating an outstanding educator in District 186 to win Horace Mann's Educator of The Year Award! It's easy - fill out the nomination form & submit one letter of recommendation : shorturl.at/bNT35 Last year Jill Borah, a Grant Middle School teacher, received the top honor of Educator of the Year! Let's celebrate our amazing District 186 educators & administrators !! ✏️📓📎🏆🏆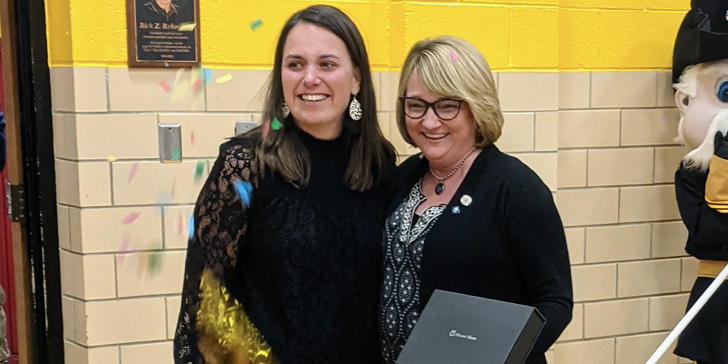 Sign up today for the Empower All Abilities Virtual Conference! Session Topics: special education, diversity equity and inclusion, transition to adulthood, mental health, advocacy, community resources, and much more • Speakers include physicians, psychologists, social workers, professors, educators, advocates, state and community agencies, and other specialized professionals • Practical information about your child's education • Connect with other parents • Professional Development Hours (PDH) available • Sesiòn de español: La Nueva Alternativa a la Tutela: Toma de Decisiones Con Apoyohttps://
www.sps186.org/page/empower-all-abilities-conference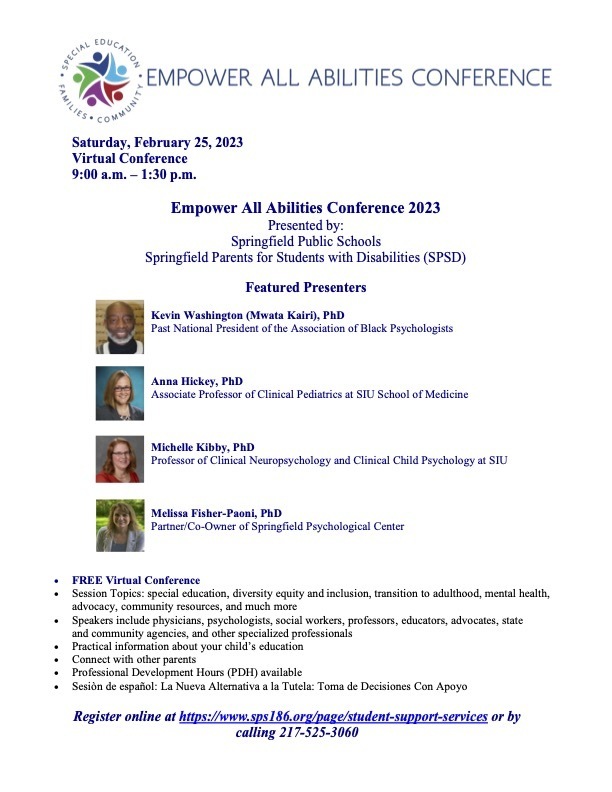 Superintendent Jennifer Gill visited Lanphier High School today to shoot a video with O'Shea Builders on the construction progress. It is fascinating to see how much the new additions are changing the landscape of the north-side as LHS construction continues.🦁🧡🖤 #ignite186 #ourschoolsourfuture #lanphierunited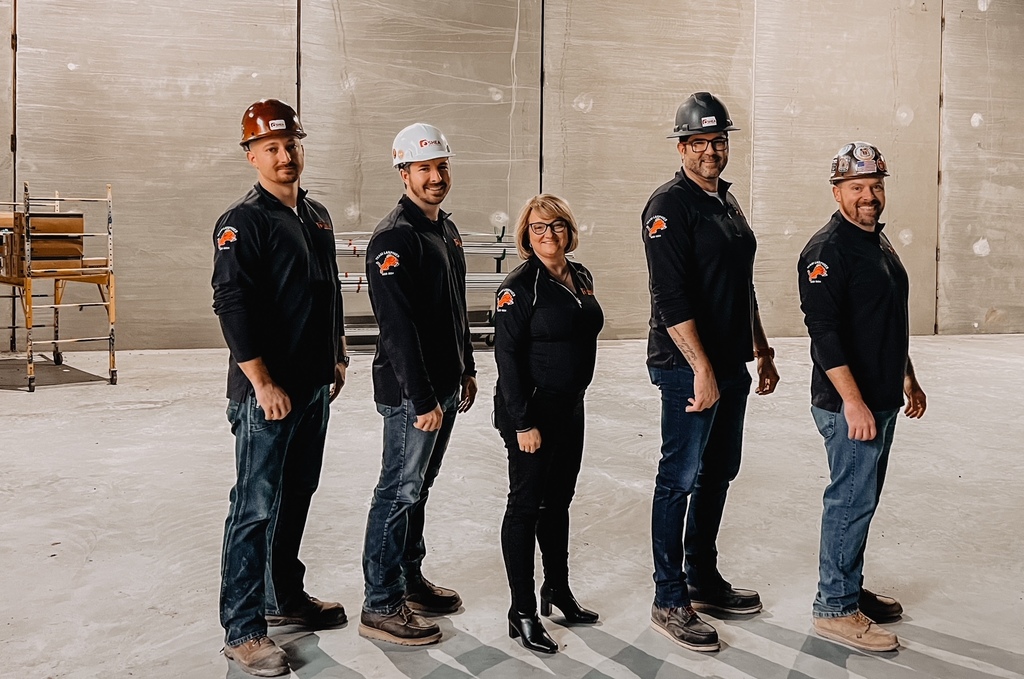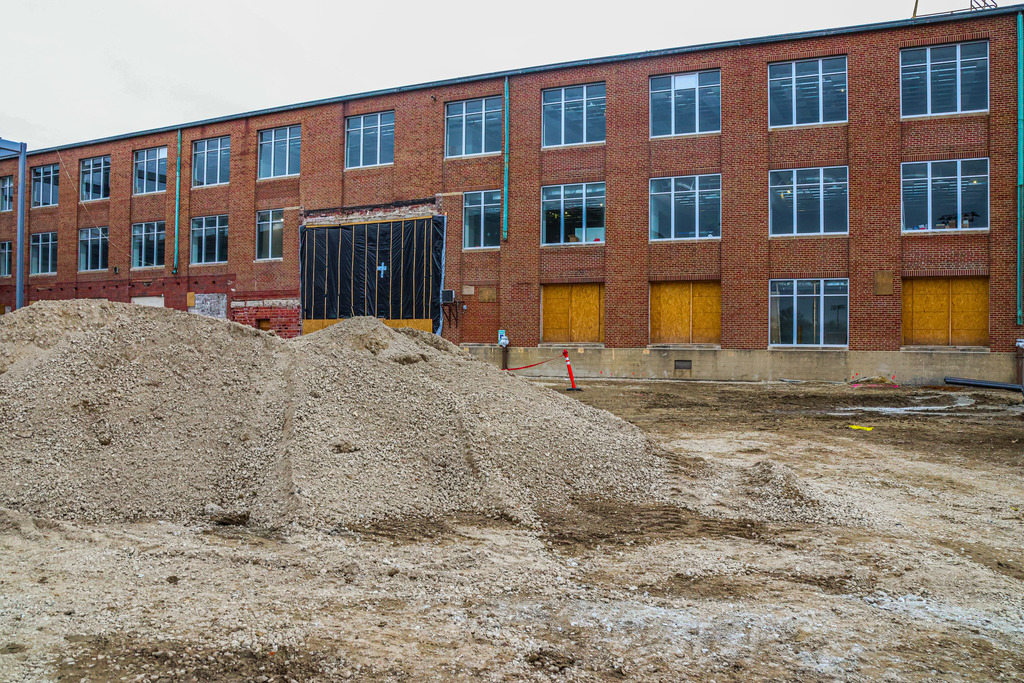 Cool!! Check out these unique t-shirts made by Ink 186 for Lincoln Magnet School to celebrate Black History Month! Ink 186 was started in October of 2013 as a state-of-the- art collaboration between Springfield Public Schools and SPARC. #ignite186 #blackhistorymonth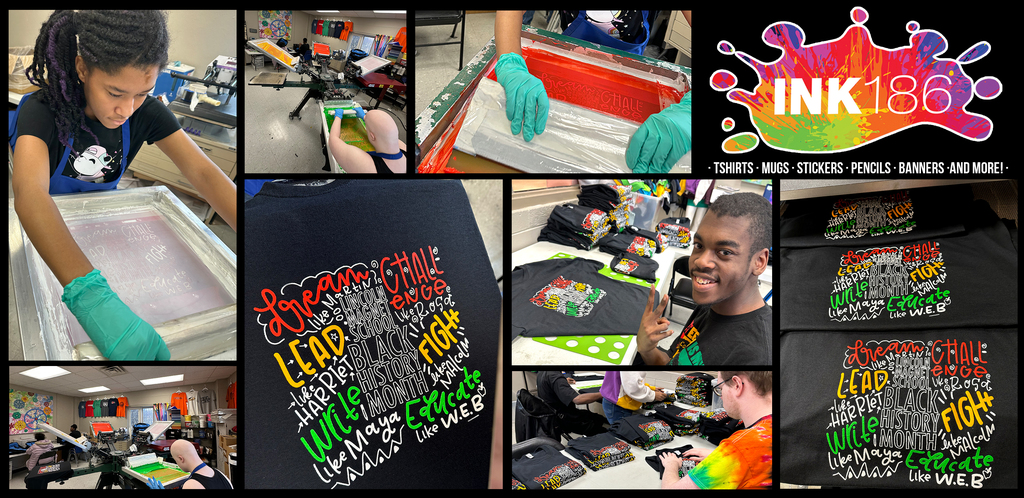 Congratulations to the 8th grade boys basketball team at Grant Middle School for winning regionals! They play tonight at Chatham for sectionals! Good Luck Generals!! #ignite186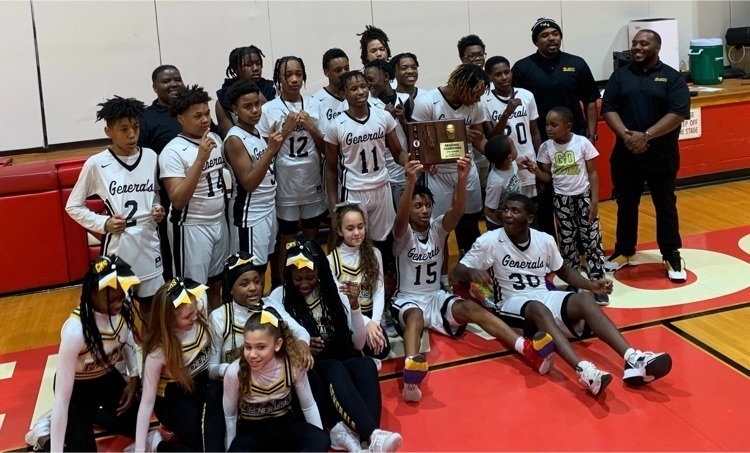 Today, we received boxes of supplies for many of our schools through the Refresh For Success mid-year supply drive. The boxes of supplies were collected as part of a team effort by community leaders including Office Depot, WICS ABC Newschannel 20, Capitol Radio Group, Security Bank and Springfield Urban League Inc.. We appreciate our community partners and the generosity of our community to help our students